June 24, 2002

I suddenly love women's tennis. I'm glad Anna Kournikova and Tatiana Panova have supreme sportsmanship.


June 18, 2002

The Velveeta Room has a new standup show on Thursday called "Tight Twenty". I'll be there this Thursday, so come see me fuck around for 20 minutes :).
Spite Club next week, so get ready for that...And don't forget to watch and/or tape Conan O'Brien this Thursday...Austin's own Martha Kelly will be on.


May 31, 2002

Jimmy Dore was great to work with...very professional, gave good advice...and fucking hilarious. AND...he has an iBook, so I hooked him up.
Jim Hamilton and Stephanie Runte, two comedians here in Austin, are dating, so I thought I'd exploit that. They both did Spite Club, and Jim pulled out the win at the end. Not that it mattered. Stephanie would pay the tab either way.


May 23, 2002

Check out Triumph the Insult Dog fucking with Star Wars fans...I would download it to your hard drive, and then play it:

Triumph.wmv (17 mb)


May 20, 2002

My wife went to her high school reunion this weekend, which left me free to do whatever I wanted to this weekend. So, how did I spend it?
Well let's see. Friday I went to a bachelor party for my buddy, Chris Kerstiens...I smoked alot and I drank consistently for about 8 hours. I ate fast food for dinner. We spent way too much money at Sugars.
Saturday I went to both the Carousel Lounge and Egos to see Chadd Thomas and the Crazy Kings (kick ass rockabilly)...I smoked two packs of cigarettes and drank consistently for about...8 hours. I ate fast food twice on Saturday.
Sunday, I went to Ginny's Little Longhorn for ChickenShit Sunday...I ate two chilidogs there. Afterwards I went to Mother Egan's for a benefit...ended up doing a little bit of time on stage...I also ate fast food later. I smoked two packs of cigarettes and drank consistently for 8 hours.
Today, I feel like hammered shit. I think it's my body's way of giving me the finger. My digestive system has to be happy my wife's coming back today.
I'm opening for Jimmy Dore this week. He's reallly funny and I'm glad to be working with him.


May 1, 2002

The FPIA finals was the best show I've ever been a part of...best contest...everybody who competed was a friend of mine...nobody was really that bitter...and the three winners deserved it: 1st place - Matt Bearden, 2nd place - Matt Sadler, 3rd place - Chris Fairbanks
They don't announce the other places, obviously. Which means that for the fourth year in a row, I was fourth place.


April 16, 2002

Okay, I know you were all worried, but I indeed did make the finals once again in the FPIA contest last night. That's four years in a row...which basically means that I am at the least the 12th funniest person in the town...AGAIN. Yea. I'm updating my resume RIGHT NOW!!!
I did learn that in a tension-filled situation like contest night, it's always good to not eat anything and drink a bunch of Budweiser and Jack Daniels. Then, instead of going straight home, it's much better to go out with your friends and celebrate at yet another bar where you drink more beer (this time Lone Star). It is also keen to not just drink on an empty stomach, but to dance as well. That way, you're moving around alot and spinning is always a healthy choice.
Yeah, I feel like shit today. I wonder why.


April 9, 2002

I took a much needed vacation with my wife and my friend, William. We went to Memphis (TN, not TX) and had a great time...if you don't count the drive through Arkansas. Jesus, the state must have just received funding and decided to work on all the highways AT ONCE. A one-lane shitty highway through the entire state? YEA! Give me more of that shit!
Memphis is a slum, folks. There's no good area or bad area. The entire city is dirty and scary...BUT, Sun Studios and Graceland are there. And that's why I went.
Music has always been a big part of my life and my comedy, and to see where rock'n'roll practically started was humbling. Sun Studios is smaller than the Velveeta Room, but the vibe there was tremendous.
And Graceland was, of course, everything it was supposed to be. I went there an Elvis fan, and I left a fucking disciple. It's just too bad that makes me more of a redneck than I ever thought I'd be.
While we were staying at the Days Inn on Elvis Presley Blvd, right across from Graceland, we got to see a lot of interesting things...like a drunk driver crash into the fence in front of the hotel...at 10 in the morning. Then there was the car that caught on fire in an Exxon parking lot.
Oh, and then there was the socket in our room that started smoking. We told the front desk clerk who alerted the 50 year old female security guard, and neither one of them knew what to do about the smoldering wire. Instead of cutting power and disconnecting the wire, they called the fire department. 3 fire trucks and an ambulance showed up to deal with one wire. 4 fully equipped firefighters, axes in hand went to our room (we moved to a new one, thank you) to deal with the wire. I bet they were really pissed off.
Interesting side note: the room we moved to did not have an alarm clock, and the same socket that smoked in the other room was black from a previous electrical mishap. We had a good night's sleep that night.
One of the best part of the trip was meeting a cool chick working at Sun Studios who told us where the cool bars were...not that Beale Street bullshit, but actual honky tonk dives...places like the P&H cafe that had High Life on tap...pitchers for $4.00. And the Lamplighter, which was smaller than Ginny's Little Longhorn and served Pabst Blue Ribbon in a bottle. And they had a 45 filled jukebox. It fucking rocked.
Memphis is great fun...even if their comedy club shut down.


April 8, 2002

FUNNIEST PERSON IN AUSTIN CONTEST 2002 starts tonight. I'm on the April 15th round (next Monday if you can't do math). Gee, I hope I can get into the finals because that way I can list in on my resume...right next to Finalist in '99, '00, '01.


March 11, 2002
Anyone who knows me knows that I absolutely LOVE the South-by-Southwest festival this weekend in Austin. Oh goody! $75 for a wristband that doesn't guarantee shit!!! YIPPEEEE!
In honor of this moneymaking pit of hell, I'll be performing at the Velveeta this weekend. If you're out and can't get into any shows, come on by...or, go see as many shows in the south by south Austin festival, which will have better venues and bands anyway.


February 27, 2002

Anyone who didn't believe what I mentioned before about the pie fight at Spite Club, here it is: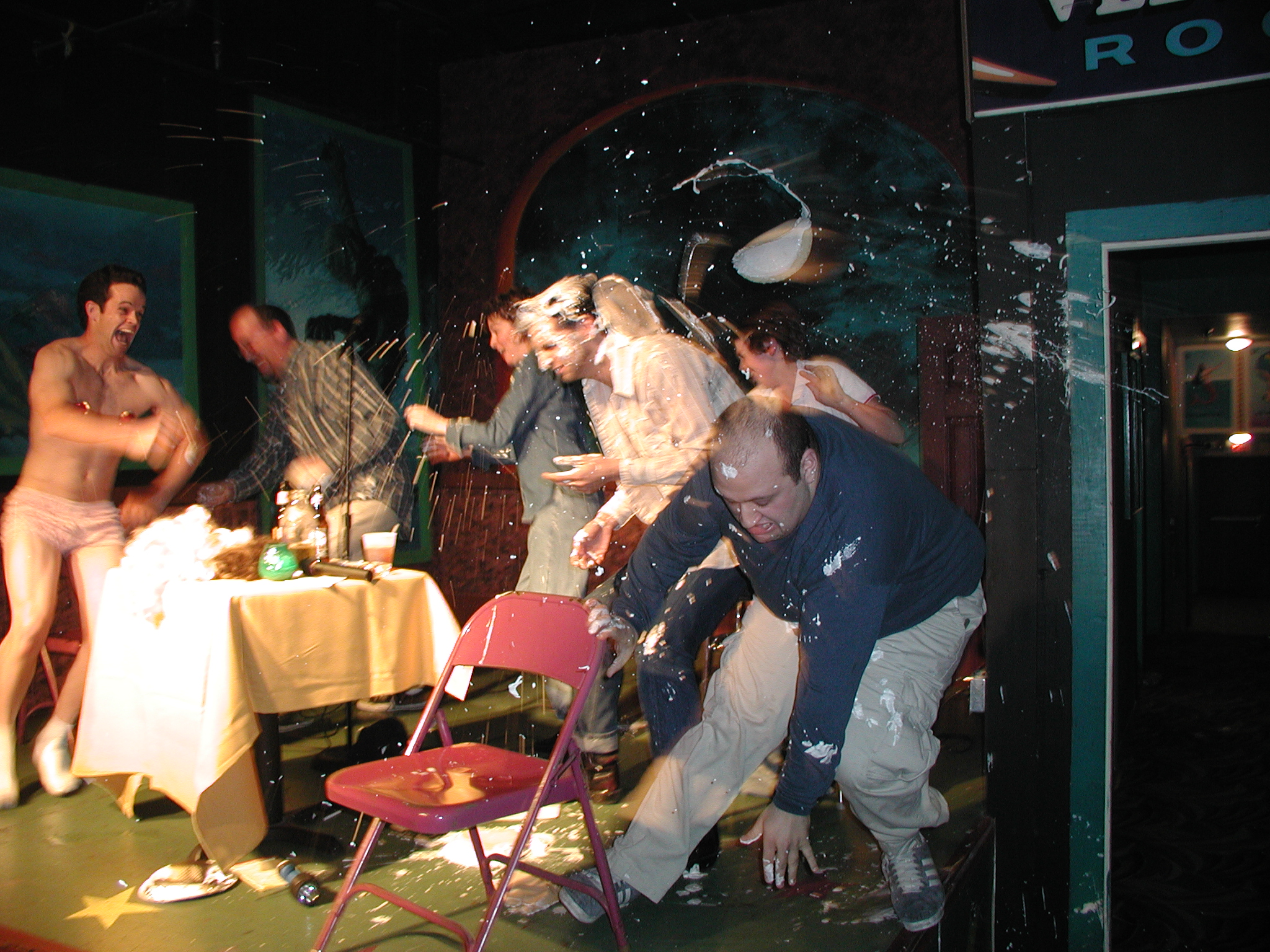 Yes, that's a half-naked Andy wearing tassels.


February 23, 2002

Tonight is second night of my Velveeta headlining stint, so if you're on that cesspool known as sixth street, come on by.
I learned a valuable lesson on Thursday: Don't have Andy and Leon on your show unless you are prepared for them to do anything to you and your show. The format and content of the Spite Club was shot to shit. Their opponents, Scott and Stacey were in on their own little chaos aimed at me. The following happened to me in an hour's time:
I had a jar of pee offered to me repeatedly
Leon had a plastic pompadour wig and imitated my every movements
I was almost run over by a crazed Andy in a wrestling mask
I had an intervention with the Teen Network for Truth
I was propositioned by Andy in a wig
I was gang dry-fucked to the tune "Whatta Man" by Salt-n-Pepa
I was hit with 5 pies while the theme to Benny Hill was playing

Do you know how hard it is to get the smell of pie out of your hair? The best part of the whole show was that I got it all on tape. I don't know why.


February 14, 2002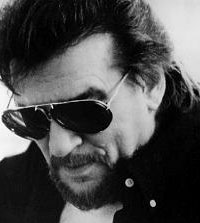 Waylon Jennings 1937 - 2002
February 13, 2002

Last night I headlined a show at the Chelsea Steet Pub...in, uh, Lakeline Mall. Yeah, that's right! I said a mall. I was told to head down there and that it was a good venue...I was not told that it was a comedy show sandwiched in between two karaoke sets.
It was a great show, actually. The people there were apparently regulars and enjoyed the comedy. To show them my appreciation, I decided to close my show by singing a little Elvis...and it's never EVER going to happen again, so don't ask. Elvis Rabon is no more. It was the Shiner talkin'.


February 11, 2002

I've been very sick this past week...which is good because I've been meaning to lose weight. =cough=

The Timmy Campbell benefit went great. In the span of 5 hours, the following people played on the Continental stage:
Karen Poston and the Crystal Pistols, Jim Stringer and the AM Band, Shaun Young, Susanna Van Tassel, Mitzi Henry, Elizabeth McQueen, Bear McCreadie, Doug Strahan, The Casey Sisters, Teri Joyce, Roger Wallace, Roy Heinrich, Jeff Hughes, Libbi Bosworth, James Hand (wow, btw), Earl Poole Ball and Don Walser...not to mention all the wonderful musicians that backed these people up (wouldn't want to leave a Horton or a Buck out now, would I?).
It was a huge success, and I hope that there are more of these to come...you would think so. Hell, if KLBJ can have a damn festival every month with the same 3 or 4 bands (Vallejo, Pushmonkey, Blue October and then some touring band)...
I did a 5 minute set...just long enough to rip into Tim McGraw, Alan Jackson, Garth Brooks, Billy Gillman and Shania Twain. It was nice to perform for people who completely agreed with me. Usually in a comedy club, I have people who say, "Hahaha, that's funny...hey, I like Shania Twain."

In fact, the only negative part of the evening was a certain Jovita's waitress and companion who heckled me with some rude comments (not many people heard them, but I did). She and her dingbat sidekick were lucky it was a benefit because I was nice. In fact, they should have benefitted the crowd by shutting the fuck up. Hey, guess what, Betty Pages, the only thing I want to here coming out of your mouth is an explanation as to why it takes me 20 minutes to get a fucking beer from you. Tell you what: I'll probably be there at 8 pm on Wednesday, so let me order one now and maybe I can start drinking by 9.
You like tips? Here's a tip: don't heckle someone who used to tip you on a regular basis but will now buy beer from the bar.

February 01, 2002

On Sunday the 10th, I'm going to be helping out with a benefit for a friend, Timmy Campbell, who had his equipment stolen by some ball-less, soulless sack of shit. It's going to have a bunch of great bands, and I'll be doing a little time in between while they switch out equipment. So come out to hear some real country music, and to hear me bitch about radio country.


January 28, 2002

You guys missed a great Spite Club last Thursday...Michelle Billoon vs. Martha Kelley...Michelle was armed with the Teen Network for Truth and a boy band, while Martha was armed only with her wit and her singing voice...Great, great show.
The music scene here is getting better and better. Steamboat is coming back...and the rumor is that Liberty Lunch is returning as well. Granted, the Red Eye Fly went down, but that's what happens when you go to an all Rap format. Gee, local rap musicians every night at a rock'n'roll bar...why didn't they make money? What, did noone come out to see Nay-Nay talk about "Austin" and "Flossin'"?


January 8, 2002

It's Elvis' birthday. Celebrate it by remembering the 50's and 60's Elvis...the music, the moves, the style...hell, the influence that he had on everyone in the world. Listen to his music today and remember why they call him the King of Rock and Roll...Avoid getting sucked into the freaky weird-ass redneck obsession of the jumpsuit and idol worship and just get back to basics: his music. Elvis was the man, folks, don't let the hype fool you into thinking he didn't deserve his title. Long live the King.


January 7, 2002

Happy New Year, everyone...I hope you were able to see the shows last Friday and Saturday at the Velveeta Room, and not just because I was there. The Fudgetown Dandies brought a standing room only crowd into the Velv on Saturday, and I got to see a bunch of people that have smartly avoided the club for the past couple of years.
It's been a really good year so far, which is good because 2001 sucked ass. I mean, it really blew. Terrorism, Bush, two Britney Spears albums...I mean, God help us...

One shining light of 2001 was the decreasing popularity of Country music...the Nashville radio-play shit....
You see, I'm a fan of real country...you know, Merle, Waylon, Willie, Johnny Cash, Buck Owens, Faron Young, etc. The new country I like is all local (see my music links), because the only real country won't get on the radio. Radio tunes from Nashville have been getting steadily worse since Garth Brooks became popular in the early 90's, and Tim McGraw burst on the scene.
And God, I hate it. I hate that Shania Twain and Faith Hill were both praised in the media for successfully crossing over from country to pop. Ooh...what a fucking journey that must have been, huh? What'd they do, change shoes?
And I was told I'm supposed to like the Dixie Chicks, but hey, when I saw a live video where the lead singer had corn rows in her hair, I thought that the only country thing about her look is that she could be the whore at the local trailer park.
But alas, Nashville is getting desperate, because they're losing fans quickly. People are getting tired of it, which is why the industry is bringing in boy bands and girl bands into the "country" scene to reach younger fans...sheDaisy, for Christ's sake. Just because there's a steel guitar in your band does not make you country. If Kid Rock had a steel guitar sample in his one of his latest atrocities, you probably wouldn't consider it country. So why do people listen to Billy Gillman?
Billy Gillman, you know...12 years old...sings "country". He has a fucking retainer, folks. What's this kid going to sing to me about love? "My girlfriend's growing titties", his latest single, is no doubt moving up the dying country charts. And I hope it dies, too. Then maybe it can be rediscovered and my friends Roger Wallace, Dale Watson, and the Lowells get famous, and I can be that elitist asshole who says, "Yeah, they're good, but I knew them before they "sold out"...you know, when they were broke and playing Ginny's Little Longhorn."
Long live real country...hell, long live real music! Go out and buy a CD from an unrecognizable label, go see a live show, and drive out to that Dixie Chick's house (who lives somewhere in Austin) and give her the bird while screaming, "Take that, you trashy, empty song-writing, waste-of-contract-having corporate schill! Say, I think you're getting fatter."

There. I'm done.


December 28, 2001

Back from Christmas vacation...after visiting my wife's family in East Texas for a few days, I'd like to share with you some things I heard in East Texas so you can get a feel for what that part of the country is like:
"Well, the grandkids are coming over so I better put the pistol up."
"I hope you enjoy this book...I saw the movie and it was good."
"I was at the gas station and I couldn't figure out how these new pumps work. Luckily, there was this darky there who helped me." (said by an 85 year-old woman)
"...And then my wife hit me in the back with a claw hammer. And she ran, boy...'cause she new I was going to kill her. Ha ha ha...crazy bitch..." (said by a 20 year old)
"Myrna left ol' Billy...and she took the kid with her." ("How old is the kid?") "Twenty-Five."

A comedian friend of mine, Tom Hester, is going to be on Late Friday tonight on NBC. It's always nice to see Austin guys on the TV, even if it's at 12:30 on a Friday when most people who would enjoy his set are out drinking. Eh, tape it.


December 18, 2001

Okay, ladies...a few things:
1. A friend of mine (cough...Roger...cough) told me he had problems opening the front page because of the size of my cutesy flash movie...well, I changed it, Mr. 56k. Hope you like it. BTW, you might want to avoid downloading the video. They're big.
2. I'm headlining the Velv in February, so come out and support me and drink alot...You know I'm gonna...
3. Enjoy your holidays, everyone...and lay off the pie.


December 11, 2001

A friend of mine sent me a link to an article about that guy who shot up the factory in Indiana and killed someone:


Suicidal gunman took four shots

GOSHEN, Ind. -- Robert Wissman, the gunman who killed a factory co-worker and injured six others, shot himself four times with his 12- gauge shotgun before dying, the coroner reported.
Coroner Jeff Landrum said Wissman had two wounds to the head, one to his neck and a chest wound, but ruled the death a suicide. Wissman went on the shooting spree Thursday, several hours after he had quarreled with another employee over a female co-worker, police said.

Wow...he shot himself four times, did he? Twice in the head?
I'm glad the guy bought it, but can't you just be honest and say that someone took his gun from him and capped the fucker? Who's going to protest that? And if you're going to lie, make it a believable one...Can we get someone from the Warren Commission to give the coroner some pointers?


December 10, 2001

Happy Holidays. Hey, Something occured to me. A huge chunk of what I do on stage has to do with music. I often bitch about popular music, especially pop and country (which, is the same thing according to CMT). I mean, Jesus, there's a twelve year old singing "country". Billy Gillman. What's he going to tell me about love? He has a fucking retainer, for Chrissakes. What's his new hit?
"My Girlfriend's Growing Titties"?
"My Favorite Crayon is Magenta"?

You've got the lead singer of the Dixie Chicks who had corn rows in her hair. That's not country. That's trailer park!
Yeah, I'm not too happy with the country music scene...But I'm in Austin, which is great because there's good local music here. Austin is the place that is missed usually by big tours (Dallas to San Antonio, skip Austin, go to Houston), so we get the indie underground good shit. And the least I could do for my musician friends and for the bands I love is to put links on my page for them. That way I can send them all 5 people that visit my site every week. That's the kind of gal I am.

Links page


November 30, 2001

Doug Stanhope is actually playing the Velveeta Room this weekend...He must really like the Yellow Rose, since he's only hanging out there and the Velv this weekend. Last night's show was great...he did an hour and a half of filthy, religion-hating material...and then hung out and watched open mic. Yes, nothing like trying to do 5 minutes after an hour and a half of Doug. Here's ten minutes for you guys, though.


November 25, 2001

Mitch sold out every show, which is nice to open to a packed house 5 times. Mario DiGiorgio featured, and it was nice to see him again, that yankee.
BTW, I quit smoking two weeks ago. I would have mentioned it sooner, but I wanted to make sure I could actually quit so I wouldn't look like a douchebag...not that you fuckers who can't quit are douchebags...yeah...


November 16, 2001

We cancelled Spite Club Thursday...Why? Maybe because Austin was practically underwater. It was supposed to be Michelle Biloon vs. Martha Kelly, and that will be rescheduled in January (Velveeta is closed on Thursdays in December...private parties make more money that us comics). So, be looking for me Thanksgiving Weekend: Mitch Hedberg is coming.


October 26, 2001

Spite Club last night was intense. Doug Connolly drank 5 mind erasers in an hour. And he normally doesn't drink. Therefore, I didn't get drunk because there was no need to. Doug's opponent, Daniel Frank, had a strong showing and showcased President FDR's one man show for his freestyle set. Doug won by a nose...But Daniel's in from LA headlining the Velveeta Room this weekend, so who's the REAL winner? Yeah, you're right. Doug.


October 22, 2001

Happy Birthday to me...


September 27, 2001

Hey, remember 1989? I bet Limp Bizkit's Fred Durst doesn't want to. Check out his 1989 "demo" tape that a buddy of mine has called "Vanilla Ass":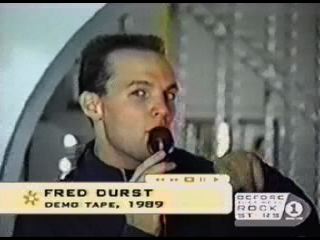 September 26, 2001

Spite Club has been doing alright at the Velveeta Room, even if it is once a month. Tomorrow, I get to watch Fred Bothwell (yes, THAT guy) go head to head with Patty S., supported by Tom Hoover (aka Scott and Stacey). Hmmm...an imaginary character going up against a real life character...Should be interesting.
Yesterday I opened for one of my favorite comics, Louis CK at Texas Lutheran University in Seguin, Texas. My dad lives in Seguin, and I knew a little about the school, but I was unsure if they knew anything about Louis' act. Sure, they can handle a "fuck" and a "cocksucker", but could they handle his bit about "Cunty McShitballs"? They were really great, and we had a good show. Lutherans must not be as tight-assed as Baptists.



June 1, 2001





I'm headlining this weekend at the Velveeta Room...Yeah...And I had to use photo shop to create the show poster above, as well as other promotional materials. Why? Because Matt Bearden headlined last weekend and had a fucking 2' x 3' poster...How am I supposed to top that? New Velveeta manager J.C. Shakespeare said it's now a competition to see which comic can outdo the other. Great. Just because Matt gets a creative bug, now I have to get off my ass and promote myself. Fucking overachievers.







---