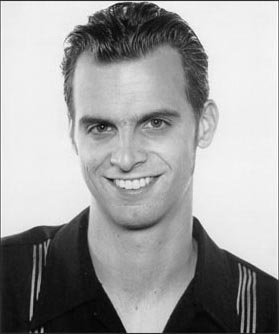 Whether itís important current events or trivial daily annoyances, John Rabon has an opinion on it. And you may not agree with it, but at least itís funny.

John is a Texas native and a 5-year veteran of the Austin comedy scene. He describes his point of view as "cynicism with a smile", which is evident in his complaints about the government, ignorance, and his lawn. His rants about running kids off his property have earned him the nickname of "Uncle Cranky" from his comedy peers, who see the 28 year-old transform into a grumpy old man on stage.

A major part of Johnís focus is on the state of the music industry. Heís a music elitist who does not forgive the atrocities of blond teenage female vocalists, boybands and Limp Bizkit.

He has showcased at major comedy clubs, such as the Improv in Los Angeles and the Punchline in San Francisco, and he has played countless clubs and bars. Heís a regular at the Capitol City Comedy Club in Austin, and calls the legendary comedy bar Velveeta Room his home.

John is the creator and host of the debate show "Spite Club", which plays monthly at the Velveeta Room. "Spite Club" pits two comedians head to head in competition for their bar tab. John describes it as a "way to capitalize on the bitterness of comedians and to get drunk in the process".

John is an active part of the entertainment community in Austin, whether itís writing, acting or annoying local radio personalities. Heís a three-time finalist in the Funniest Person in Austin contest, and a flawless Master of Ceremonies. He can frequently be seen working on his í59 Dodge in his driveway, smoking Lucky Strikes, drinking Lone Star Beer, and yelling at neighborhood kids.
RESUME:
Finalist in the "Funniest Person in Austin" Contest 1999
Finalist in the "Funniest Person in Austin" Contest 2000
Finalist in the "Funniest Person in Austin" Contest 2001




Clubs

The Improv (Los Angeles)
The Punchline (San Francisco)
Capitol City Comedy Club (Austin)
Velveeta Room (Austin)
Rivercenter Comedy Club (San Antonio)
Numerous other clubs and bars




TV


MTV's Austin Stories




Radio


Dudley and Bob on 93.7 KLBJ Austin, TX
The DD Show on KUSB 90.1 Long Island, NY






---